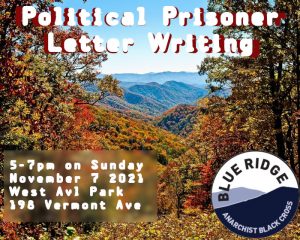 If you're in the Asheville area, check out the Blue Ridge Anarchist Black Cross letter writing night on Sunday, November 7th from 5-7pm at West Asheville Park at 198 Vermont Ave. No letter writing experience required, they provide stationary, names and addresses of prisoners with upcoming birthdays or facing repression.
As stated before, letters are a great show of support for folks facing repression, as well as a great way to build new relationships with the person you write as well as a to make friends with others interested in offering support to incarcerated comrades. Contact is so important, especially in these isolating times.
We'll also be bringing t-shirts, buttons and stickers for purchase, great gifts that support our prisoner support efforts.