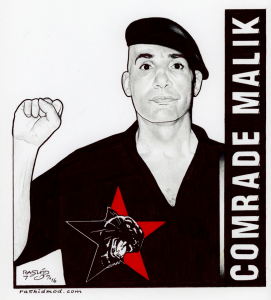 Friends,
Support for long-term political and politicized prisoners is a crucial part of building a revolutionary abolitionist movement. We owe it to our friends on the inside not to lose track of them, and to show we care about their lives. Wishing someone "Happy Birthday" is a great way of doing that–which is why Blue Ridge ABC holds monthly political prisoner birthday letter-writing nights–and we appreciate everyone who has attended one of those events!
For those who are able to do a little bit more, a small birthday gift goes a long way and means SO MUCH. Comrade Malik Washington, a radical prison activist who is incarcerated in Texas, is turning 49 in a few days (July 19), and he is running low on funds in his commissary (the account at the prison where he can spend money to get things he needs). If there is any little amount you could throw Malik's way, he would be so grateful! It's very easy to do online, just visit here to buy items or post money to his account using his name (*Keith H. Washington*) and inmate number (*TDC#1487958*).
Malik is one of the chief spokespeople for the End Prison Slavery movement that launched last year's prison strike on September 9. One of the reasons it's so important to support people like Malik is that he truly demonstrates what "mutual aid" looks like in action. He wrote in his last letter, "Anything you send is a blessing because some guys get absolutely nothing but please know I always share with my fellow prisoners. We are in this together–no time for selfishness!!" That's what it's all about!
Hope you can support, and thanks for all you do to build this movement!
In appreciation & solidarity,
Blue Ridge ABC
PS – If you want to write Malik a happy birthday greeting or send a card,
here's his mailing address:
Keith H. Washington
TDC# 1487958
Eastham Unit
2665 Prison Road #1
Lovelady, TX 75851