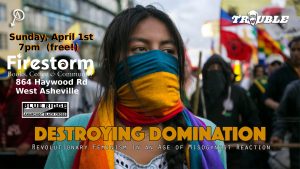 Rather than our normal film-showing on the last Friday of the month, we're joining our Trouble showing to the end of letter writing. 5pm, Sunday the 1st of April at Firestorm, come down and write some letters and meet BRABC friends. Stay for the showing of Trouble at 7pm. A description follows:
Destroying Domination: Revolutionary Feminism in an Age of Misogynist Reaction
Today, decades of hard-fought victories in the struggle for female emancipation are under threat from waves of resurgent misogyny. From attacks on abortion and reproductive justice, to the revival and spread of religious fundamentalism and authoritarian nationalism… patriarchy is on the march. Meanwhile, as the corporate media celebrates the #TimesUp movement initiated by rich women in Hollywood, femicide, sexual exploitation and rape continue to tear more marginalized communities apart.
Systems of male domination lie at the very roots of capitalism and state power. During periods of political crisis and counter-revolution, women, and all those who eschew their socially-assigned gender roles, are often the first to be targeted for repression and increased violence. In part, this is because of the important position that women have always occupied, as the beating hearts of communities of resistance. But this repression is also intended as a token gesture to working-class men that are upset by their declining social and economic status, and who rather than focus their rage at their true enemies – the rich and powerful – have historically and consistently opted to clutch ever tighter to their positions of relative power and control over their would-be female comrades.
In this month's edition of Trouble, sub.Media takes a look at patriarchy as an enduring system of social, economic and political control, and shares stories from some of the front-line struggles being waged by women around the world – from Indigenous communities fighting against the colonial dispossession of their lands, to the challenges faced by migrants forced from their homes by economic inequality, climate change, and war.
Love & Tacos,
The Troublemakers @ sub.Media