We'll be doing letter writing at Firestorm today from 1:00-3:00PM.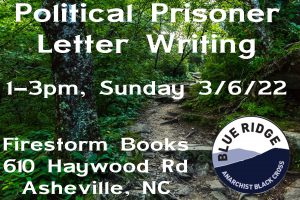 Check out https://uprisingsupport.org/ for information on people who are awaiting trail or serving prison sentences from the 2020 uprisings.
Here's a birthday list for this month:
===Cinque Magee===
Birthday: March 17
Mailing Address:
Ruchell Magee #A92051
T 115
California Medical Facility
Post Office Box 2000
Vacaville, California 95696
Commonly regarded as the longest held political prisoner in the U.S., Ruchell Magee has been imprisoned since 1963. He was politicized in prison and participated in the August 7, 1970 Marin County Courthouse Rebellion— the attempted liberation of political prisoner George Jackson and the Soledad Brothers by Jackson's younger brother Jonathan. Magee was seriously injured in the incident and subsequently pleaded guilty to aggravated kidnapping. He was sentenced in 1975 to life in prison and has been denied parole numerous times. You can find his support site here: https://www.freeruchellmagee.org/
Hear an episode of The Final Straw with him and on his case: https://thefinalstrawradio.noblogs.org/post/2020/10/18/the-right-to-rebel-against-slavery-the-case-of-ruchell-cinque-magee/
===Reverend Joy Powell===
Birthday: March 5
Mailing Address:
Reverend Joy Powell #07-G-0632
Bedford Hills Correctional Facility
Post Office Box 1000
Bedford Hills, New York 10507-2499
Rev. Joy Powell was warned by the Rochester Police department that she was a target because of her speaking out against corruption. An all white jury tried her; the state provided no evidence and no eyewitnesses. Rev. Joy was not allowed to discuss her activism or say that she was a pastor. Furthermore, Judge Francis Affronti promised he was going to give her a harsh sentence because he did not like her. She was convicted and given 16 years and seven years concurrent.
https://www.freejoypowell.org/
===Andrew Mickel===
Birthday: March 13
Mailing Address:
Andrew Mickel #V77400
San Quentin State Prison
San Quentin, CA 94974
Andrew Mickel shot a police officer in 2002, explaining his motivations on a manifesto posted on the internet before his arrest: "to bring attention to, and halt, the police-state tactics […]used throughout our country[, and as] an action against corporate irresponsibility."
https://prisonersolidarity.com/prisoner/andrew-andy-mickel
===Kevan Thackrar===
Birthday: March 9
Mailing Address:
Kevan Thakrar A4907AE
HMP Full Sutton
Moor Lane
York
YO41 1PS
UK
Kevan Thakrar has been fighting for his life for the last 13 years after a wrongful conviction. In 2008 at the age of 20 Kevan began serving a life sentence, with a minimum term of 35 years, under the highly controversial "joint enterprise" doctrine.
Kevan's refusal to submit to racist abuse from prison guards has made him a target for reprisals. Notably, in 2010 he suffered a premeditated attack in his cell by HMP Frankland guards. When he fought back he was charged with attempted murder and GBH, and put in solitary confinement, where in one form or another he remains to this day. The charges were sufficiently brazen that a jury cleared him unanimously in a rare victory against the testimony of prison offices.
Despite his success in court, Kevan has been isolated in Closed Supervision Centres (a 'prison within a prison') across the country and currently at HMP Whitemoor. Closed Supervisions Centres are the most extreme form of imprisonment in the UK, modeled on the "supermax" prisons in the United States, and Kevan's testimony is one of the few sources of information available to those on the outside. They are the ultimate punishment in the British prison system and subject people within them to brutal dehumanisation, degradation and demonisation.
Kevan Thakrar is a key voice from inside the UK prison system today, writing extensively on the conditions endured by people held in the worst prisons in the country. He is an IWW/IWOC member and has worked closely with groups such as Bristol Anarchist Black Cross.
More at https://bristolabc.wordpress.com/2018/04/18/support-kevan/